Dear Friends and Colleagues –
I can't say it's been a great year. It's been a year of reckoning and hard truths, of exhaustion and burnout. We've all been working doubly hard to meet the demands of the moment – in our workplaces, in our communities, and in our families.
But our collective work on behalf of families touched by dementia – and for communities we care deeply about – has never been more important. That's why we're proud of what we all have achieved through the power of Us.
Our work is guided by the voices of people living with dementia and their caregivers, and it is fueled by the contributions of partners like you who demonstrate commitment, resilience and hope.
Together we have: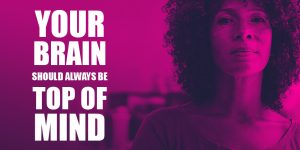 (1) Launched the UsAgainstAlzheimer's Center for Brain Health Equity with partial support from the Centers of Disease Control and Prevention (CDC). Part of the CDC's Healthy Brain Initiative, the Center will ensure community-based organizations and minority-serving providers have access to culturally tailored messages and public health strategies to promote brain health in Black and Latino communities. We have grown the Center network to include the National Black Nurses Association (NBNA), the National Association of Hispanic Nurses (NAHN), Alzheimer's Los Angeles and 10 other community-based partners (and we're still growing!). Read more about this milestone in Next Avenue.
(2) Catalyzed health system change in support of health equity by leveraging the National Alzheimer's Disease Index (TM) (NADEX). Supported by a robust working group of interdisciplinary experts and the National Minority Quality Forum, the NADEX helped UsA2 and its partners identify the U.S. counties hardest hit by Alzheimer's among Latinos and Blacks and spot gaps in research infrastructure. Our analysis found that millions of families live in regions highly impacted by ADRD without easy access to research opportunities. We launched an online brain health equity hub to house data and insights on the impacts of Alzheimer's communities of color and women, including a new report with the Urban Institute on ADRD hot spots. Read about this work in the Wall Street Journal.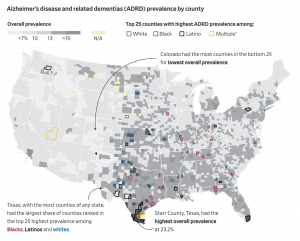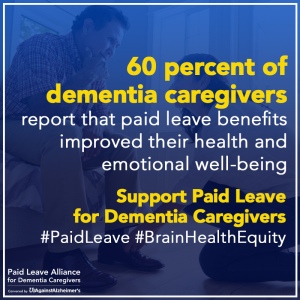 (3) Championed policies to address the social determinants of brain health and to ease the economic hardship of dementia care on low-income families. We launched the Paid Leave Alliance for Dementia Caregivers – along with 16 partners – to advocate for investments in caregiving infrastructure. We advocated for more resources in communities of color to combat COVID-19 and called for the equitable collection and reporting of COVID19 infection and testing data by CMS and CDC. Read about this work in Newsweek.
(4)  Called on Congress to support historic increases in Alzheimer's research funding  at the National Institutes of Health (NIH) to $2.65 Billion for Fiscal year 2020.  With Alzheimer's surpassing COVID as the greatest public health crisis facing our nation, we must continue to support funding to secure a breakthrough treatment or cure.  We've seen this done with HIV/AIDS and cancer.  We have every reason to believe it's within reach for Alzheimer's if we have the will to make the sustained effort and investment.
(5) UsA2 brought together more than 170 diverse organizations and leaders – to date – in support of a national Prevention Goal for Alzheimer's disease and related dementias. One result of this persistent outreach and education is that the Federal Advisory Council on Alzheimer's Research, Care and Services included establishing a national prevention goal in their 2020 recommendations to inform the National Plan to Address Alzheimer's Disease. The Council is establishing a new Subcommittee on Risk Reduction that will be co-chaired by Kelly O'Brien of UsA2, along with Dr. Lisa McGuire from CDC and Matthew Baumgart with the Alzheimer's Association.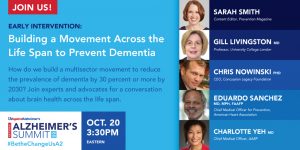 And we want to recognize a few—but not all—of the 2020 accomplishments of our collaborators, including:
Gladys Maestre, PhD, of the University of Texas Rio Grande Valley (UTRGV) who received an NIH Director's Pioneer Award to better understand how neighborhood-level factors affect ADRD trajectories among Mexican Americans in South Texas. Leveraging the NADEX, this work will assist city planners and policymakers to improve brain health outcomes in one the regions hardest hit by Alzheimer's.
Jonathan Jackson, PhD, of Massachusetts General Hospital who received an NIH Director's Pioneer Award to improve research engagement by using new tools like the NADEX and by developing literacy-building efforts and community empowerment strategies to foster research and community collaborations. Dr. Jackson was also named UsA2's first Brain Health Equity Research Scholar. Read about it here.
Jaime Perales, PhD, of the University of Kansas Alzheimer's Disease Center launched two projects to develop new engagement strategies using text messaging and community health workers to narrow disparities in Alzheimer's awareness and access to health services.
The welcome news from President-elect Biden announcing that the incoming Administration would focus on a cure for Alzheimer's as one of its priorities felt like our community is finally being heard and recognized for the difference our important work makes every day.
As we look back at 2020 there is reason to be optimistic and to keep pushing for what happens next. But it takes partners like you to help turn that hope into reality – your action, your voice, your support. As Dolores Huerta told our summit in 2019, "Si se puede" – "yes we can."
From all of "Us" at UsAgainstAlzheimer's, we'd like to wish you a Happy Holidays and a Happy New Year! 
Warmly,
Jason, Stephanie, and the entire UsA2 Team
p.s. If you are looking for holiday podcasts or streaming recommendations, here are some of our favorites.