The National Institute on Aging (NIA) announced funding for the first Alzheimer's Disease Research Center (ADRC) in South Texas, a joint collaboration between the University of Texas Rio Grande Valley (UTRGV) and University of Texas Health San Antonio. The new center will spearhead research to reduce the burden of Alzheimer's among Latinos, who are one and half times more likely to develop Alzheimer's than non-Latino Whites.
The new ADRC joins 32 other centers nationwide that are accelerating research on effective Alzheimer's and dementia prevention, diagnostics, and treatments, while improving support for families and caregivers.
"Alzheimer´s disease takes a higher toll among Hispanics, and through the partnership with the team in San Antonio and the network of other ADRCs, we will be positioned to make discoveries needed to change the trajectory of pain caused by the disease," said Dr. Gladys Maestre, MD, PhD, UTRGV professor of neurosciences and an UsAgainstAlzheimer's partner.
The South Texas ADRC fills a critical gap in our nation's Alzheimer's disease research infrastructure. According to an analysis of Medicare data by UsAgainstAlzheimer's, South Texas is home to 10 of the top 25 U.S. counties most impacted by Alzheimer's among Latinos. We mapped these counties and you can explore them here.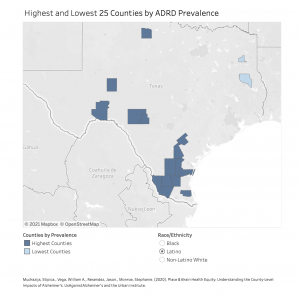 Our analysis found that deep inequities in the social determinants of health exist in these counties among Latino Americans. When compared to families living in counties with the lowest prevalence of Alzheimer's, families in South Texas experienced lower rates of insurance, household income, access to exercise opportunities, educational attainment, and higher rates of poverty. According to the CDC, "these socioeconomic conditions can have a profound effect on a person's health, including their risk for Alzheimer's disease and related dementias."
"Texas is the third-most populous state in the country, has the second-highest number of deaths related to Alzheimer's disease, and is home to a Mexican American and Hispanic population that is among the fastest-growing U.S. demographic segments," said Dr. Sudha Seshadri, MD, professor of neurology at UT Health Science Center San Antonio and founding director of its Glenn Biggs Institute for Alzheimer's and Neurodegenerative Diseases.
Despite this high burden of the disease on the region, federally funded research opportunities were extremely limited in the region. We mapped the locations of ADRCs and other federal research sites in relation to the ADRD Medicare patient population and found critical gaps.  In fact, before this announcement, there was not a single ADRC in the entire state of Texas.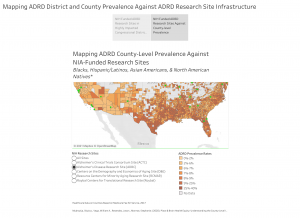 This is a trend across low resourced regions. According to an analysis by the University of Wisconsin, access to ADRC sites "skews toward the most wealthy neighborhoods."
Using the National Alzheimer's Disease Index™ (NADEX) – a public health tool for analyzing local Alzheimer's data – we identified the U.S. Congressional Districts most impacted by Alzheimer's among Black and Latino Americans and found South Texas was heavily impacted, with 30% of the top 20 Congressional Districts impacted by Alzheimer's among Latinos located in region.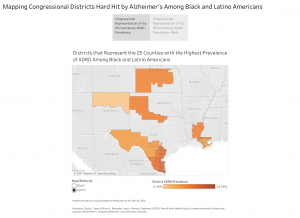 We also partnered with UTRGV to leverage the NADEX to develop local-level insights on the impacts of Alzheimer's on Latinos in South Texas, making NADEX data available to UTRGV researchers and local community partners through briefings and presentations. This translated into a collaboration on a successful NIH Director's Pioneer Award focused on using neighborhood data to identify and mitigate Alzheimer's risk factors in high risk communities.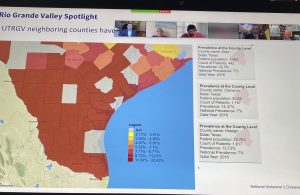 In response to the growing impact of Alzheimer's on low-resourced communities, the UsAgainstAlzheimer's Center for Brain Health Equity launched a data driven campaign – Place & Brain Health Equity – to increase the visibility of these equity gaps and to drive investments in areas where people of color are underserved by research centers, the healthcare system, and by public health departments. The campaign has helped to catalyze $9 million in federal investments in underserved regions. We are also educating policymakers and public health officials about opportunities to drive equity through strengthened prevention efforts, research inclusion, and culturally tailored education.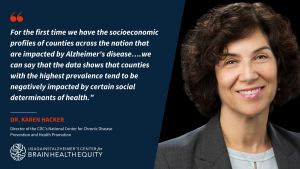 Given the growing impact of brain health inequities on South Texas, we are encouraged by national efforts to invest in this hard hit region and by the community-centered work of scientists like Dr. Maestre and Dr. Seshadri. We look forward to a strong collaboration with UTRGV and the South Texas Alzheimer's Disease Center to leverage the NADEX to develop strategies for educating South Texas communities about brain health and to marshal partnerships to promote equity and access to health services and cutting-edge research.
—
Jason Resendez is the Executive Director of the UsAgainstAlzheimer's Center for Brain Health Equity and Chief of Staff of UsAgainstAlzheimer's. In 2020, he was named one of America's Top 20 Influencers in Aging by PBS Next Avenue.